Day #8 | New project [🐒📈🦍]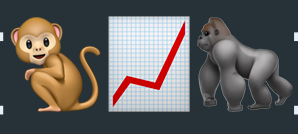 At the beginning of 2020, I promised myself that I will release two new mobile applications. The first one has already been released as Kowa. The second one is hereby in progress.
This is going to be a very exciting project for me. This mobile app is going to be one of the apps that I truly am going to use every day. I use Kowa only a few times a week, usually just to put something there and buy the item if I need it.
But this mobile app I'm working on right now is going to be a game-changer for me. The reason I'm excited about it is that it really feels like I'm fixing a daily problem that I have. And I don't think I'm the only one with the problem:
How many times again?
The project is code-named '🐒📈🦍'.
I will show previews on Twitter and maybe write it often on this blog.
Stay tuned for more information. 😉