Day #35 | Thoughts Bracket Stage LoL worlds 2020
I predict that the finals will be TES and DWG.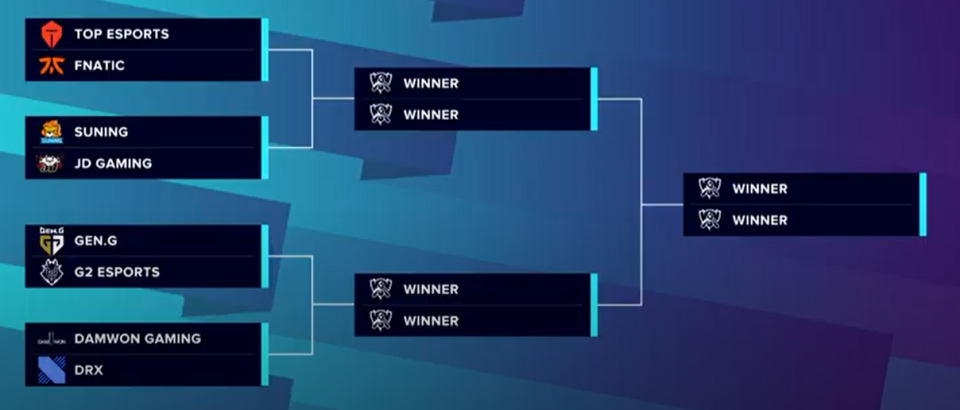 Today DWG and DRX played one of the quarterfinals and DWG won with 3-0. These are my still my thoughts for the bracket stage.
First of all, I don't like the draws. I've been waiting for LPL to fight against LCK, but it doesn't seem we will get that at all until the final. Which is a bummer cause I waited a whole year to see these matchups in a high-stake environment.
Hope the format gets changed for next year, cause this is stupid.
(Unless we get more international tournament, but due to COVID19 probably not)
---
For the upper side bracket, I predict TES and JDG get out. TES is the best or second-best team in the tournament next to DWG. For JDG, their match against Suning may be a bit harder, but based on previous results I do believe JDG will win the match with a 3-2.
For FNC in this bracket, things may get interesting. I do believe FNC is the best overall western team in the tournament due to the meta.
Strong all-round top-lane, carry/farming jungler, scaling mid-lane, stable ADC, and carry support. I think this the current meta in the tournament due to the champions that are being picked.
So if we do see a western team in the finals, it will be FNC beating TES. But due to the stronger individual players on TES, I believe TES will win 3-2.
Then the semi-finals should be TES and JDG, and in both the Spring and Summer LPL finals they faced each other. JDG won the Spring finals and TES won the Summer one. Still, across the whole year, I think TES was the better team and believe they will get to the finals.
---
The bottom bracket is GENG vs G2 and DWG vs DRX.
DWG already won today with a 3-0, which was for me expected.
So let's talk about GENG vs G2. I predict G2 cause they are truly a BO5 team. They only have lost three BO5s this year, one world finals, one vs MAD Lions, and one vs FNC. Also, GENG only won one BO5, so I don't believe they have the experience or adaption for it.
Also, G2 has overall better players. Wunder and Mikyx have been performing exceptionally well. You can see that they are in worlds form. Caps have always been a good player and PerkZ while not at his peak, still in top form. The worry is Jankos. He didn't perform that well in the group stage, but I believe he will perform better.
So I believe it will be G2 vs DWG in the semi-finals. Sadly, I believe DWG will easily 3-0 this as well like today DWG vs DRX. G2 doesn't have the player skill advantages here and G2's early game has been unstable as well. If you have a weak early game against DWG, it will be over quick and fast.
I predict that the finals will be TES and DWG. Probably the best finals Worlds can offer in terms of quality and viewership.