Day #26 | LoL Worlds 2020 week 1 group stage thoughts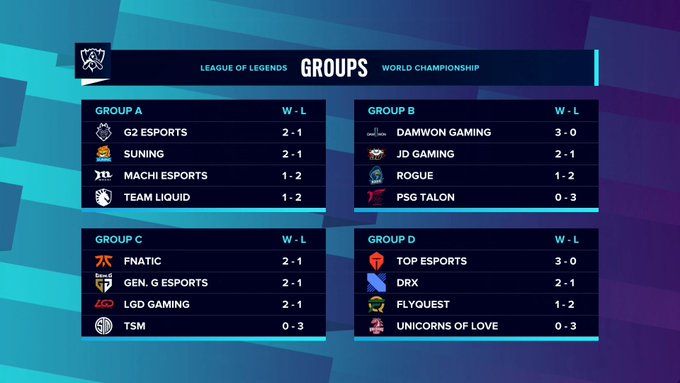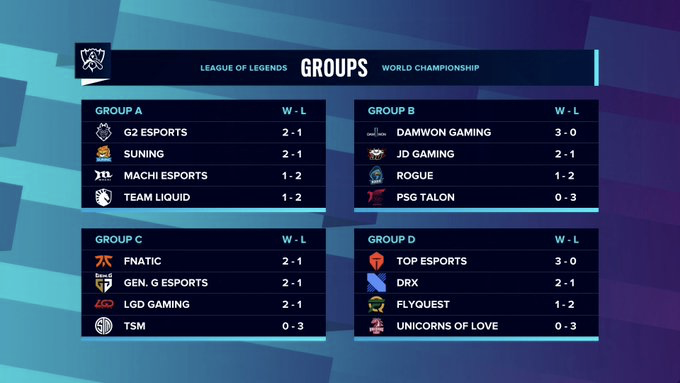 So the first 32 games of the LoL worlds have happened and these are my thoughts about it.
Based on my previous post on my initial thoughts of the group draw, it looks as expected.
---
In Group A, I predicted G2 and Suning to get out. They are now the top two and I wouldn't change my thoughts about it. They also still have the best game of the tournament by far. Even though G2 lost against Team Liquid for some reason today, I still expect them to get out.
For Group B, DAMWON Gaming looking like the best in the tournament and with JD Gaming not far behind. The JDG vs DWG match was more of a draft difference. But, DAMWON and JDG are going to get out and Rogue/PSG sadly just has a too hard group for their level.
For Group C, things are getting spicy. FNC, GENG, and LGD are all tied for first place. All three teams have had strong games but also questionable ones. I predicted GENG and LGD to get out. But after seeing FNC, the European supports are playing well. This includes FNC Hyllisang and I believe he will be the X factor.  So I will change my pick to FNC + GENG to get out this group.
TSM has been very demotivating to see. I think they lost their confidence as well, going for solo carry comps for Bjergsen. They lost with their bread and butter comp with Zilean and Senna as ell. None of them looked competent in the world's stage. This is looking very grim for them and I would even predict they won't win a game.
---
For Group D, TOP Esports and DRX are the favorites. Knight has been not playing that well but the fact that he doesn't need to do well and dominate the group is a good sign. Once TOP-knight can get back to his form, this team may be the favorites again.
Flyquest did achieve a win by PowerOfEvil with a big carry performance. Probably the biggest single carry game we had so far. That shouldn't be ignored.
---
All in all, the groups are going as expected. There are some wins and loses that may make it interesting like TL winning against G2. However, I expect the following teams to get out:
G2
SUNING
DWG
JDG
FNC
GENG
TES
DRX